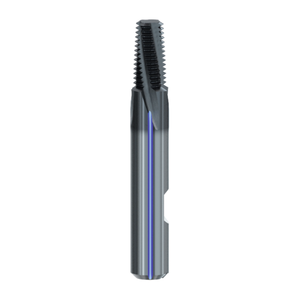 1/2 - 3/4 x 14 TPI NPT Solid Carbide Thread Milling Cutter - Emuge Franken
GF18B23A.9678
GF-KEG-MULTI NPT
Machining of tapered internal thread.
Smooth milling thanks to flutes with 15° helix angle.
With shank cooling flutes.

Deep threads possible thanks to long thread part.

For several dimensions.

Cylindrical or better tapered pre-drilled tap hole necessary.

Tool for a specific pitch with corrected thread profile.

For internal threads.
SKN Coolant supply.

| | |
| --- | --- |
| d1 | 1/2 - 3/4 |
| Pitch (TPI) | 14 |
| dF | 14.25mm |
| d2 | 16mm |
| l1 | 85mm |
| l2 | 26.3mm |
| l4 | 48mm |
| Z | 4 |