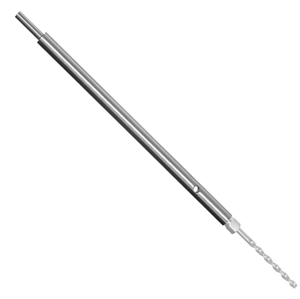 770A 9" Drill Extension
770A 9"
A combination of Extension Rod and interchangeable Collets.
A real precision tool for both machine and hand drilling..
RUGGED – Can be used in drilling the toughest materials such as titanium and stainless steels.
ACCURATE – Eccentricity of drill bit with respect to axis of Extension Rod is less than .002" T.I.R.
EASY TO USE – Dull or broken drill bits can be replaced in a few seconds – without removing
Collet from Extension Rod.
EFFICIENT & ECONOMICAL – Three Extension Rods accommodate a total of 81 interchangeable collets covering a range of drills from 1.55mm to 8.00mm, and are available in two standard
lengths, 9 inches and 4 inches.
Other lengths are available on special order.
Extension Rods are precision machined from high-grade tool steel for maximum strength and durability.
Collets are case hardened for wear resistance. O.D. of Extension Rod is greater than maximum diameter of collet.
Tool can therefore be used with drilling bushings