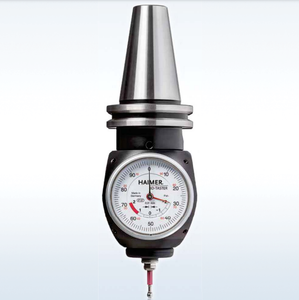 80.365.40.FHN Haimer Universal 3D Sensor / Tester BT40
80.365.40.FHN
Due to new duty charges from the EU all Haimer sensors may not be available on a guaranteed next day delivery.

 If you order is urgent, please contact the team and we can let you know the best we can do.
Universal 3D-Sensor
The integrated taper (DIN 69871, SK40 or JIS B6339, BT40) guarantees easiest handling and a maximum of comfort. The Universal 3D-Sensor is a very precise and versatile measuring instrument for milling and EDM machines (insulated probe).
Once clamped into the machine spindle, the run-out (T.I.R) is fully adjustable to Zero. Then, it can be used to bring the spindle axis on the edges of the workpiece. This allows to set zeros and to measure quickly and easily. approachability in any direction (X-, Y-, Z- axis). When the dial gage shows zero, the spindle axis is exactly on the edge of the workpiece. No calculating of the probe's ball diameter is necessary – just Zero it out! Problems with mathematics or calculations are eliminated. It helps increasing the productivity and accuracy of the operator. Short and long probes are available. The sensor probes may be changed without any tool, no re-calibration of the unit is needed.
Additional safety, the unit has a large overrun distance in connection with the fully tested preset breaking points giving the sensor long life. All Universal 3D-Sensors are individually tested and adjusted when being assembled in order to achieve a maximum of measuring precision.

The Sensor is waterproof according to IP 67.

Please take note: The given measuring precision of 0.01 mm only applies, if the original HAIMER probe tips are used.

Included in delivery: Universal 3D-Sensor including clamping shank Ø 20 mm, short probe tip Ø 4 mm
Technical data subject to change without prior notice.
Technical drawing