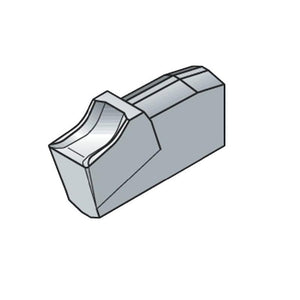 2mm Kennametal A2 Parting Off Inserts - A2022N00CL02 KCU25
4057658
THE PRICE IS FOR 1 BOX OF 10 INSERTS

Grooving and Cut-Off A2™ Cut-Off Inserts
| | |
| --- | --- |
| Product # | 4057658 |
| ISO Catalog Number | A2022N00CL02 |
| ANSI Catalog Number | A2022N00CL02 |
| Grade | KCU25 |
| Insert Size | 2 |
| [W] Cutting Width Metric | 0,050 |
| [W] Cutting Width Inch | .0870 |
| [RR]Corner Radius rh Metric | 0,200 |
| [RR]Corner Radius rh Inch | .0080 |
GRADE KCU25

Turning Composition: An advanced PVD grade with hard AlTiN coating and fine-grain unalloyed substrate. The new and improved coating improves edge stability with wide range speed and feed capabilities.
Turning Application: The KCU25 grade is ideal for general machining of most steels, stainless steels, high-temp alloys, titanium, irons, and non-ferrous materials in a wide range of speeds and feeds with improved edge toughness for interrupted cut and high feed rates.
Holemaking Composition: Advanced CVD TiCN-Al2O3 coating combined with a tough carbide substrate.
Holemaking Application: First choice for steel, stainless steel, and cast iron. This grade offers adequate deformation resistance, excellent edge strength, and superior wear resistance over a wide range of machining conditions for high productivity with very good reliability.